Mwidm's Oracle
Fusion Middleware Practice
Engineering A Complete Oracle Solution
MWIDM AND ORACLE PARTNERSHIP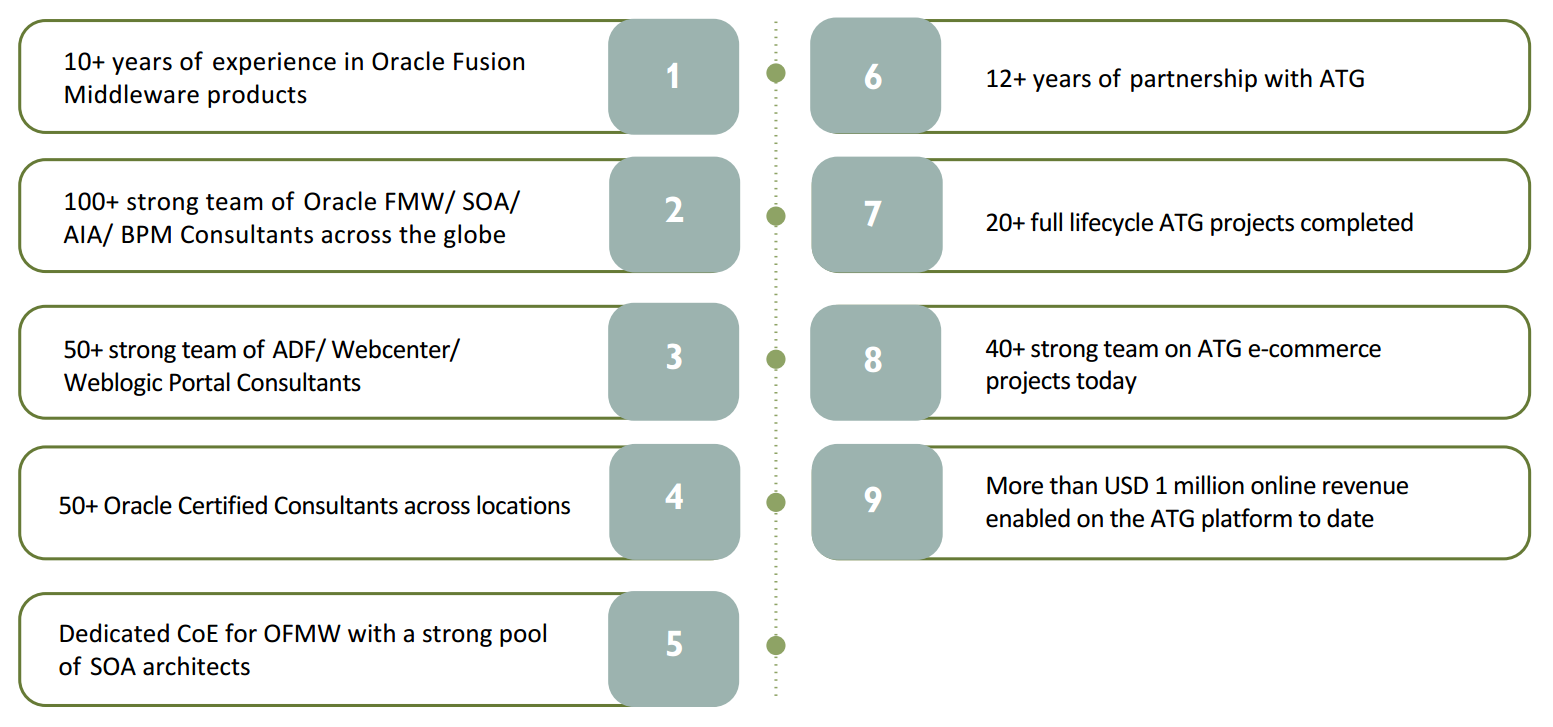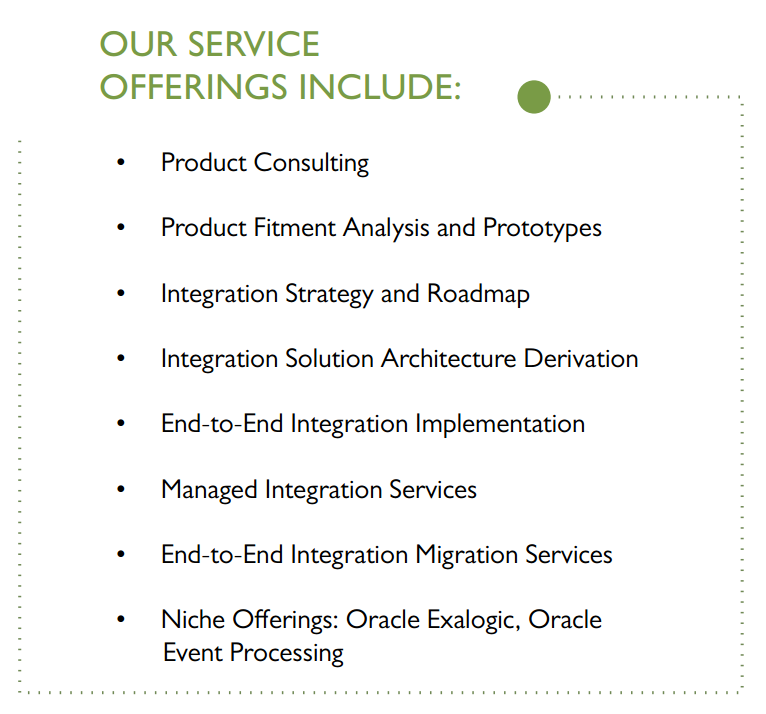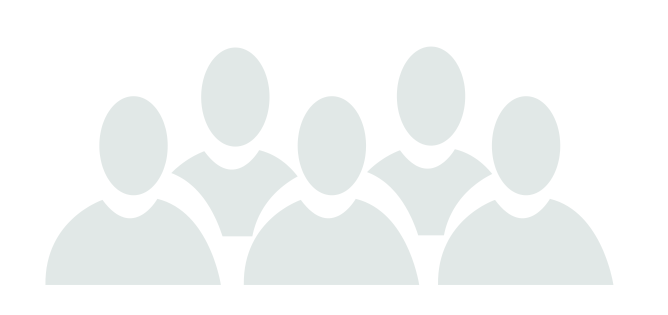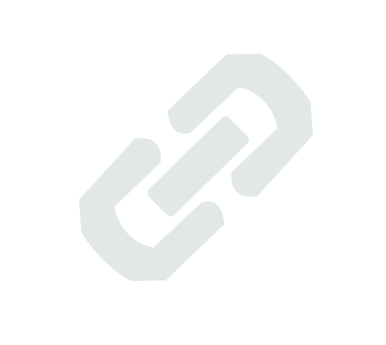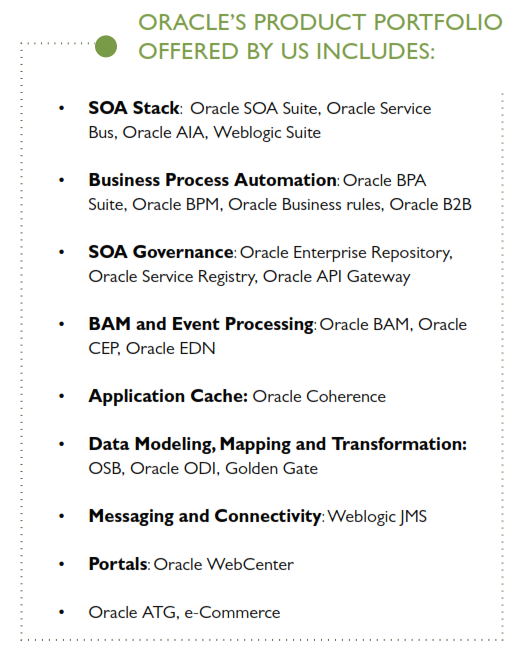 MIDDLEWARE ON DEMAND

Virtual machines, ready for deployment to create dierent
environments viz. Development, Integration Testing, UAT, etc.
Full-edged platform for Service Development Lifecycle with
support for continuous Integration
Application migration to Oracle Exalogic from other platforms
Provision of Oracle WebLogic Server environments if required
during Migration

Reduced time-to-market for launching of SOA platform by 70%
3x reduction in system administration cost
Eective virtualization of hardware resources
Automated up-/down-scaling of infrastructure as per requirement
Periodic archiving and provision of restoring golden copies

Instances and appliances supports Oracle Enterprise Linux and Solaris,
with possible extension to other Oracle VM/Oracle Fusion
Middleware compatible OS
Virtualization technology-based on Oracle VM based on
industry-proven Xen platform.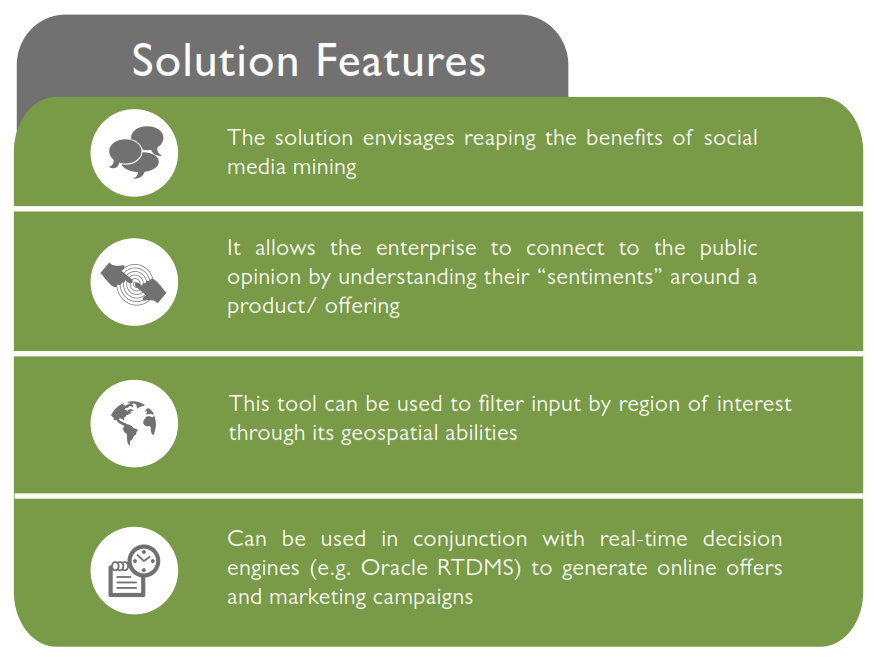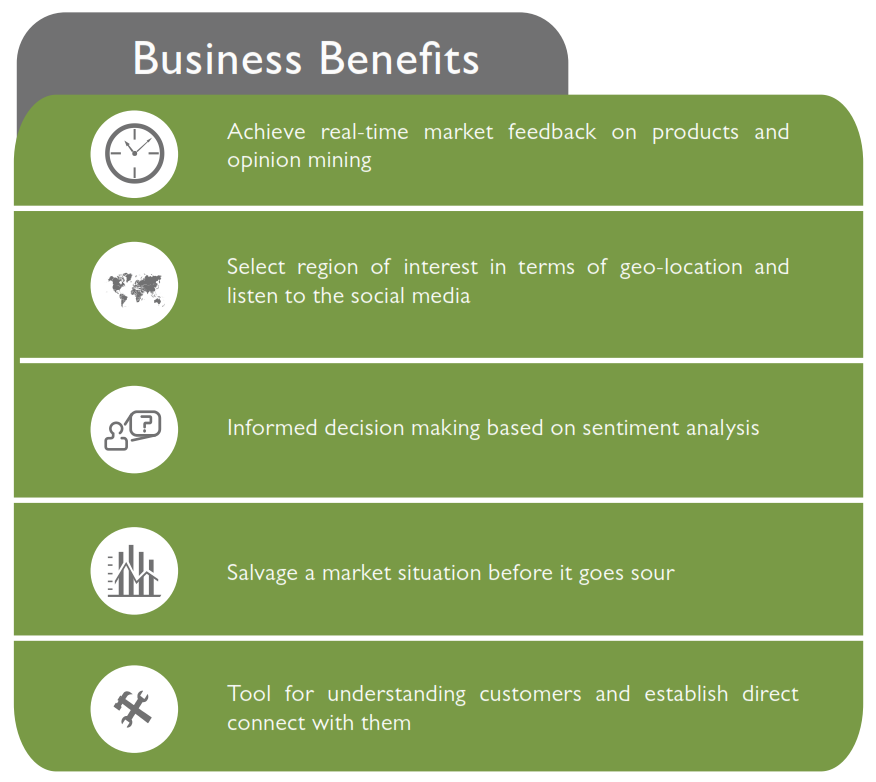 Oracle Fusion Middleware Practice
From strategy consulting to implementing solutions for customers, MWIDM has been an early adopter of Oracle Fusion Technology practice with a dedicated team of skilled consultants. With engagements in the Fusion Middleware Stack covering Portal, SOA, BPEL, ESB, Stellent/Oracle ECM, Content DB, Real-Time Collaboration, Process Orchestration, Identity Management and custom development using OAF / ADF framework, most of these engagements are deployed on high-availability architecture using Grid and Real Application Clusters.
MWIDM consultants have expertise in the following areas:
Installation and Configuration of Oracle Single Sign On architecture and its Integration with Active Directory and iPlane
Installation and Configuration of Oracle Discoverer Standalone and Integration with eBusiness environments
Inside/Outside Architecture of Portal Deployments
Deployment of Business Intelligence Modules, BAM, BPEL, XML Publisher Reporting Solutions.
Deploying Oracle Application Server in a Clustered
MWIDM will help you with:
Defining a business centric process to cater to the ever-changing market conditions along with a SOA based business processes that help adjust to changing market conditions, providing you with SOA-based responsive solutions.
Provide low Total Cost of Operation complemented with reduced development and implementation timelines, easy upgrading solutions and with the least amount of system downtime.
Provide an "On Demand", real-time business intelligence solutions for effective and value-add decision-making process over
the enterprise infrastructure.
What we offer:
Our deep understanding of the Oracle Fusion architecture and integration horizontal, will deliver your business the right choice for implementing Oracle Fusion. Our integrated solutions will balance the Oracle Middleware technologies with your business process by adding more value to your existing investment. We offer workshops, assessment engagements and implementation services that include a roadmap for Oracle Fusion, IT strategy review and definition with scope document, to align your IT governance and infrastructure to your business goals and processes.
Our engagement services include:
Focus on your current pain areas in conjunction with your IT portfolio and business topography
Examine and determine your SOA readiness and view your SOA roadmap
Streamline IT architecture with your business vision and goals and reduce the gap between them
Define technology strategy and roadmap for Oracle Fusion middleware
Utilize and balance your existing investments to grow into Oracle Fusion architecture
Deliver an analytical report pertaining to your organizational readiness to Fusion Technology
Our Value Proposition for Implementing Oracle Fusion Middleware
MWIDM's Oracle Fusion
Middleware Practice
Enabling Future Ready Digitally
Connected Enterprises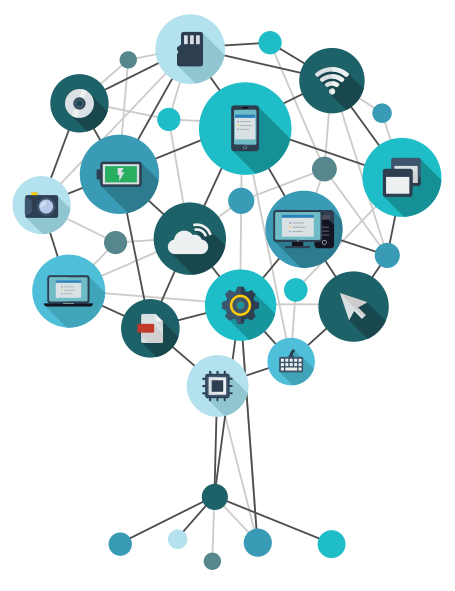 The Digital Revolution is already here. Customers expect an instantaneous, real-time response to their requirements. Organizations are now having to redefine their business models to be deft, responsive and contextualized.
Helping Customers Achieve More
With over 15 years of experience in Oracle Fusion Middleware products and a dedicated Center of Excellence, MWIDM can help organizations in building and execute a proactive, holistic and iterative approach to integration.
MWIDM provides product consulting, product fitment analysis, integration strategy and roadmap definition, end-to-end integration implementation and support. The services help organizations:
To connect and respond to their customers in real-time
To design & build their digital businesses
To build solutions using a combination of traditional  and cutting-edge technologies based on business needs
MWIDM helps businesses translate their technology vision into reality by leveraging strategic thinking and agile solutions. We help businesses engage customers, help them transact seamlessly and create an integrated enterprise that delivers consistent, omnichannel customer experience. Our best-in-class offerings are centered on our deep industry expertise, cutting-edge industry solutions and innovative models that are calibrated for each client.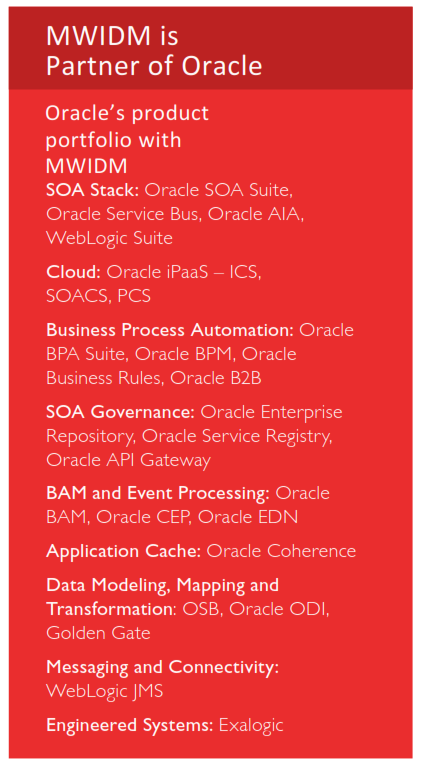 Hybrid Integration Platform
MWIDM offers end-to-end iPaaS services to help customers achieve the vision of Hybrid Integration platform.

Advisory Competency
Consulting and Architecture Competency
Implementation Competency
Support Competency
Move towards OpEx for new integration projects
Extend life-span of existing on-premise assets for reuse while adopting Cloud

Recommend on-premise application integration platforms for complex, mission-critical projects that require low-latency interactions and federate them with Cloud integration technology

Set-up/move from traditional enterprise integration to Hybrid Integration platform
Leverage automation and tools to reduce support overhead and pass on benets to the customers
MWIDM's Solutions on Oracle Fusion Middleware
MWIDM Migration Kit: Set of migration accelerators including a set of scripts, best practices and patterns that enable a smooth migration from JCAPS to the Oracle SOA Suite.
MWSOCI: A social media-based sentiment analysis tool that allows organizations to gauge the public sentiment around a product/event in real-time to enable them to take appropriate corrective actions or seize on the business opportunity.
MI: A non-intrusive framework for middleware monitoring, logging and auditing for the Oracle SOA stack. It comes with a central dashboard to provide a comprehensive visibility and enhanced workflow including 'repair & replay' feature.
We Make our Customers Successful
Middleware migration from JCAPS to Oracle Fusion for a global retailer to stem declining revenues resulted in 30% migration cost savings and reduced time-to-market by 10%.
Business process integration across countries for a leading telecom services provider helped cut down activation time for on-boarding new customers; unied order processing helped process bulk orders faster by 50% and number of orders
processed increased approximately 10 times.
Omni-channel integration for a large telecom provider in Europe
helped in consolidating its IT business and infrastructure, reducing
up to 30% time-to-market for new offerings and 20% increase in
quality of deliverables.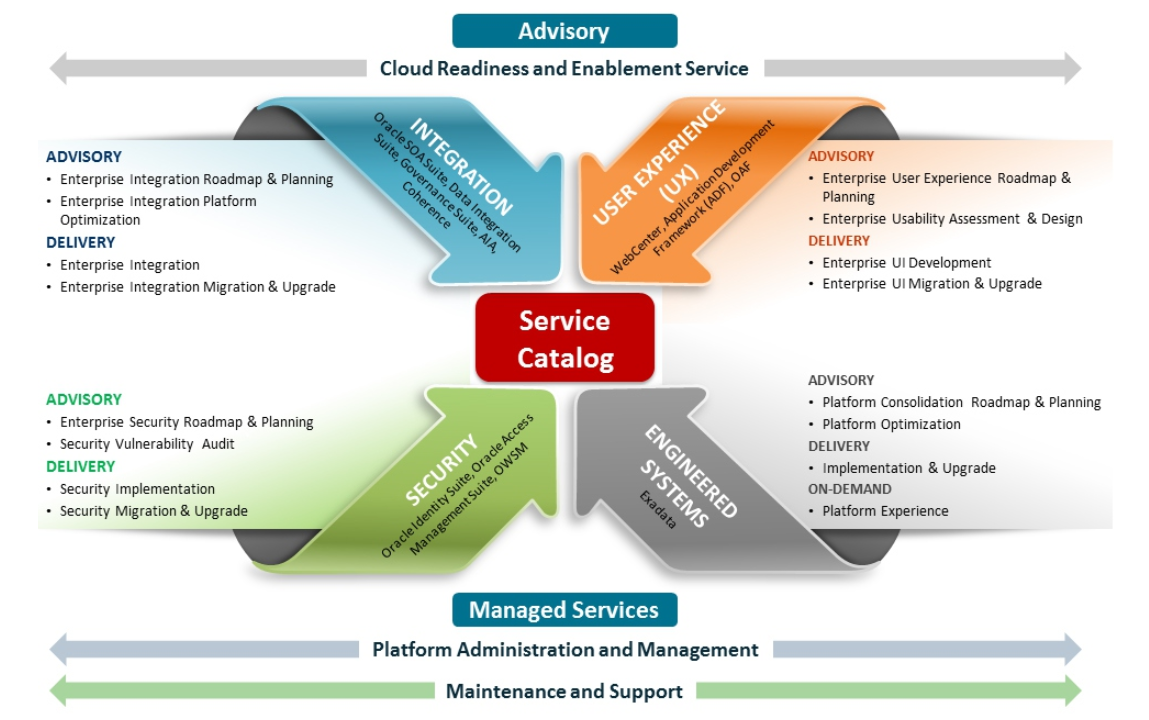 Transform the Enterprise with Oracle
Fusion Middleware Solutions from MWIDM
About MWIDM Inc.
MWIDM INC. is a leading Information Technology, Consulting and IT Services company that delivers solutions to enable its clients do business better. MWIDM delivers winning business outcomes through its deep industry experience and a 360 degree view of "Business through Technology" – helping clients create successful and adaptive businesses. A company recognized for its comprehensive portfolio of services, a practitioner's approach to delivering innovation, and an organization wide commitment to sustainability, MWIDM has a workforce of over 200
serving clients in 35+ cities across America.
For more information, please visit www.mwidm.com