HEALTH INSURANCE
Multiple options available to you provided by United Healthcare and Cigna. Includes inpatient and outpatient coverage and a prescription drug plan. We have plans that provide some level of coverage and others that provide ACA compliant coverage.

VISION INSURANCE
Includes basic coverage necessary to maintain good eye care.
DENTAL INSURANCE
Provided by Delta Dental and delivered through a network of qualified providers. Includes coverage for preventive, basic and major services.
LIFE INSURANCE
Provided by Cigna and includes term life insurance options with basic coverage for you and/or members of your family. You must have coverage on yourself in order to insure other family members.
BENEFITS ONLINE
Access your benefit information 24/7 through the GoCo Self-service online tool.
SHORT TERM DISABILITY
Provided by Cigna and protects your income in the event of an accident or illness. The amount of coverage is based on your income. There are some states that provide state mandated benefits. You can offset the state benefits with this coverage. Pre-existing conditions do apply to this coverage and benefits may be denied due to a pre-existing condition. Not available in HI, RI and Puerto Rico.
LONG TERM DISABILITY
Provided by Cigna and is available for contractors on elite contract assignments. Please contact your recruiter or Contractor Care for details.
CRITICAL ILLNESS
Provided by Unum. This plan covers certain catastrophic illnesses and pays a lump sum in the event you are diagnosed with one of the covered illnesses. This plan has a pre-existing condition clause and will not pay benefits for an illness you are diagnosed with prior to the coverage going into effect.
ACCIDENT INSURANCE
Provided by Unum. This plan provides benefits for an accident on or off the job 24/7.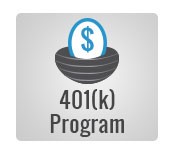 401K
Contributions are pre-tax and administered by Fidelity.com. Contract employees are eligible to participate immediately upon employment.
REFERRALS
We value our existing relationships and are always looking to build new ones. Refer a friend and you will get up to $500 depending on job placement and certain criteria.
TOOLBOX TALKS
A series of career development webinars that cover a variety of technical and development topics led by subject matter experts.
TRAINING
Access to a large number of resources, including training discounts and career development programs.
DISCOUNTS
A variety of discount programs are available, including travel, retail, wholesale clubs, events, and wireless plans.