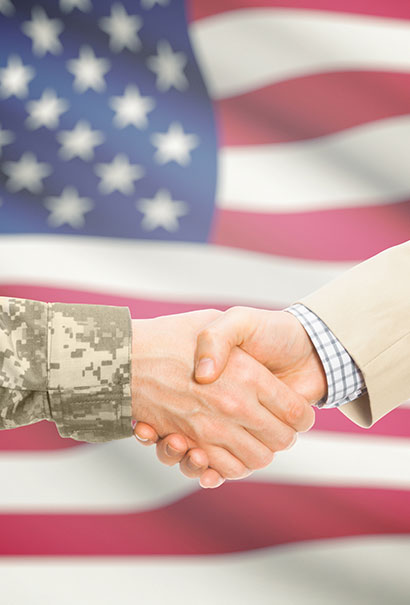 Commitment to Veterans
Our mission is to connect world-class talent with marquee MWIDM Inc. believes in the power of veteran hiring, which taps directly into this nation's greatest asset; an intelligent, diverse and hardworking group of men and women who have earned an opportunity to provide for their families after watching over ours.
MWIDM supports our veterans and is committed to helping them find the right fit in their next career. Many of our prestigious clients, are actively looking to assist veterans and provide opportunities for these men and women to re-enter the corporate workforce. MWIDM is your link and support system for these opportunities.
Our consultants are trained to translate veterans' unique skill sets from their resume to the corporate arena. With this information, we help create "the right fit" career-wise between both the veteran and our clients. As veterans, your diverse experiences, variety of skill, and ability to understand and flourish in a structured environment, will all combine for a successful future in the corporate workforce.
MWIMD Offerings for Veterans
• Software training
• Resume building and editing
• Arranging informational interviews
• Mock interviews
• Interview training
• Job search consulting and guidance
• Job placement
• Post-placement mentoring
Hiring Veterans & Military Spouses
MWIDM is your partner for military and military spouse recruitment
We hire nearly 300-500 veterans and military spouses every year, so recruiting military personnel and their spouses is nothing new to MWIDM. MWIDM has long recognized the unique value that veterans and military spouses bring to us, and our customers. The military community presents a pool of diverse, highly skilled, and uniquely qualified professionals known for their leadership, dedication, adaptability, and discipline – traits that are in very high demand by employers everywhere.
Specialized, targeted recruitment
MWIDM can help your company target the veteran and military spouse population by aligning your needs to specific military skills and experience. And through our vast network, we're located close to most major military installations across the United States, enabling local and national recruiting efforts on behalf of our clients. Our targeted recruiting strategy includes access to military experience/skill translation tools, leading veteran and military spouse-centric job boards, plus niche social media networks focused on veterans and their spouses.
Partnerships
We support ongoing relationships with all branches of the armed services, and we serve as an active member of several veteran employment organizations, including: RecruitMilitary.com, the U.S. Chamber of Commerce's HiringOurHeroes.org, and the Military Spouse Employment Partnership—among others.

We are proud to put hundards of veterans and military spouses to work each year and honored to be recognized as both a Military Friendly® Employer and a Military Friendly® Spouse Employer.